LAWRENCE OF ARABIA 70mm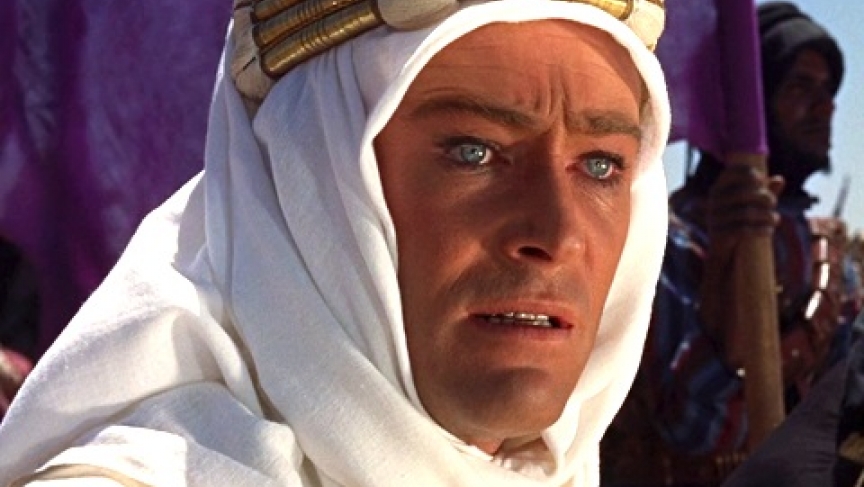 Director: David Lean
1962, UK, 216, 70mm, PG-13
Screenwriter: Robert Bolt and Michael Wilson, based on The Seven Pillars of Wisdom by T. E. Lawrence.
Cast: Peter O`Toole, Alec Guinness, Omar Sharif, José Ferrer, Anthony Quayle, Claude Rains, Arthur Kennedy.
Cinestudio's second week of Cinema in SuperPanavision 70mm showcases just what this amazing format can achieve. Lawrence of Arabia is a visual masterpiece as well as a thrilling epic, following the adventures of T.E. Lawrence during World War I on the Arabian peninsula. As the film opens, Lawrence is a rebellious British Lieutenant, who joins forces with Prince Faisal (Alec Guiness) and Sherif Ali (Omar Sharif) to attack the Turks at Aqaba. As the stakes get higher, Lawrence gains friends – and dangerous enemies – on both sides.
Winner of seven Academy Awards, including Best Picture, Best Director, Best Original Score (Maurice Jarre), and Best Cinematography (Freddy Young). The film will be shown with one intermission.
"Of all the cinematic epics captured on 70mm, few come as grand and successfully realised as Lawrence of Arabia. It's almost impossible to highlight just a single moment from the countless miracles the film pulls off." – The British Film Institute.