In Theatre
Watch these films in the renowned Cinestudio Theatre.
(105min) 2022 Italy Alessio Rigo de Righi & Matteo Zoppis, director
Ends Jun 2
The Tale of King Crab delighted audiences at the Cannes Film Festival who hailed its mix of Italian folklore and the surreal. Luciano is an outcast in his isolated Italian village at the end of the 19th century. His thirst for wine, women, and battling the authorities end in exile to the tip of Argentina's Patagonia. Here, he stumbles upon a Gold Rush, with miners searching for a legendary treasure of gold. But Luciano has luck on his side - a dazzling red King Crab that can locate hidden gold. It's a great adventure, but Luciano's search for meaning, love, and redemption brings an unexpected profundity that lingers long after the curtain comes down.
Friday, May 27 7:30 PM
Saturday, May 28 2:00 PM
Saturday, May 28 7:30 PM
Sunday, May 29 5:00 PM
Monday, May 30 7:30 PM
Tuesday, May 31 7:30 PM
Wednesday, Jun 1 7:30 PM
Thursday, Jun 2 7:30 PM
(94min) 2022 UK David Bickerstaff, director
Opens May 29
Bravo to Exhibition on Screen, for giving art lovers access to museums and artworks in select cinemas around the world! This May, the spotlight is on "The Father of Impressionism," Camille Pissarro. In the first major retrospective in four decades, the Ashmolean Museum Oxford opens its archives to reveal their wonderfully extensive and rich collection of this forward-thinking artist's work. The film follows Pissarro to Paris, from life as the leader of a scorned artistic movement to the revered "old man" who championed Claude Manet, Paul Cézanne, and Pierre-Auguste Renoir, who called Pissarro's work 'revolutionary' His paintings gain an added dimension with interviews with curators, and a narration consisting of the many letters the often-misunderstood radical wrote to his most loyal audience: his family.
Sunday, May 29 2:00 PM
(180 min) Max Webster. Based on the play by William Shakespeare., director
One Performance Only Jun 19
Discover the best of British theatre on Cinestudio's expansive screen – with comfortable seats and state-of-the-art sound! National Theatre Live presents Kit Harington (Game of Thrones) in the title role of Shakespeare's thrilling study of nationalism, war, and the psychology of power. Fresh to the throne, King Henry V launches England into a confrontation with France. When his campaign encounters resistance on the battlefield, this new ruler grows ever more ruthless, as he plunges his country into a bloody war. As directed by Max Webster (Life of Pi), this exciting production explores what it means to be English, and the timeless question: do we get the leaders we deserve? Captured live from the Donmar Warehouse in London.
Sunday, Jun 19 2:00 PM
Welcome to Cinestudio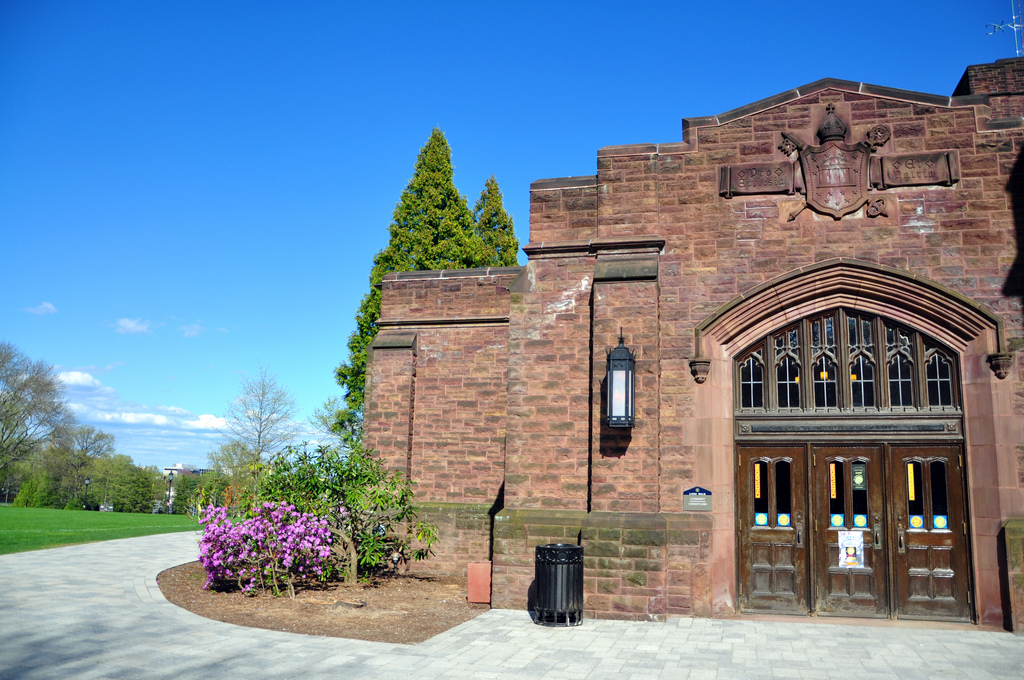 Cinestudio is a not-for-profit independent film theater located at Summit Street and College Terrace on the campus of Trinity College in Hartford, Connecticut. The theater is a magnificent single-screen venue with over 450 seats, reconstructed as classic 1930's-style movie house, including a much loved balcony and golden curtain. The building is a signature design by McKim, Mead and White, built in 1935.
Founded in 1970 by a group of students at Trinity, Cinestudio has become one of the most highly respected arthouse cinemas in the United States, with a long standing reputation for its wide diversity of programing, and for legendary projection and sound quality. Equipped with the highest quality 4K Digital Cinema systems, Cinestudio has also retained it's top-of-the-line physical film 35mm and 70mm projectors for use in studio archive presentations. Cinestudio is a daily celebration of the Art of Cinema!
Read more >