National Theatre Live: ALLELUJAH!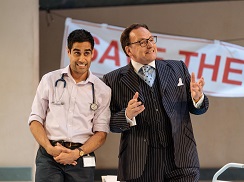 Director: Nicholas Hytner
2018, UK, 155, PG-13
Screenwriter: Stageplay by Alan Bennett.
Cast: Peter Forbes, Thora Hird, Liz Smith, Julia Foster, Jeff Rawle and Gwen Taylor.
Filmed live at London's Bridge Theatre during its limited run, don't miss Alan Bennett's sharply hilarious tribute to Britain's National Health Service! The Beth is an old-fashioned cradle-to-grave hospital serving a small Yorkshire town, that is threatened with closure to cut costs. A documentary crew, eager to capture its fight for survival, follows the daily struggle to find beds on the Dusty Springfield Geriatric Ward, and the triumphs (Golly, Miss Molly to Get Happy) of the "old people's choir." Alan Bennett's celebrated plays include The History Boys and The Madness of George III, which can also be found on the current Cinestudio schedule. Allelujah! is his tenth collaboration with award-winning director Nicholas Hytner.
"a bonus treat from the 84-year-old Bennett: a play about our imperiled National Health Service that somehow leaves you bobbing on a wave of happiness!" – Paul Taylor, Independent. Four stars.